Published: 24th of febuary 2020
One Caddy, two humans, four dogs and a lot of bagage went for a vacation last summer to experience Norway. We drove over 2000 km, had some unforgetable moments and saw so much beautiful nature!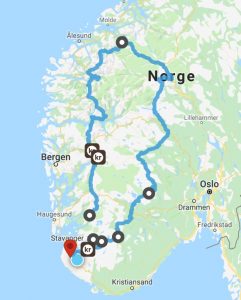 From Ryfylke to Hardanger
We started our trip by spending a few days at our cabin in Suldal and had a trip to "Bluelake".
From Suldal we drove to Odda and Hardanger. For thoose of you who have not driven along the Hardangerfjord from Odda, I can highly recommend it. The water is a magical shade of turquise and the landscape along the fjord is absolutely beautiful.
On the other side of Hardangerfjord, you will find Bondhusdalen, with Bondhusvatnet at the end of the valley. This place is one of the most beautiful ones I have ever seen and it was amazing waking up in this place after we spent the night in our tent.
On our way to Loen
The next place we were headed was Loen, but along the way we stopped by Flaam and Stegastein viewpoint. We also ended up driving over the mountain, which turned out to be a very scenic route. Before stopping for the night we visited Borgun stace church and walk along the "Kingsroad" nearby the church.
The day after we continued towards Loen after a little detour to Førde for some dogfood refill and a little hike to Huldefossen (waterfall). When we arrived in Loen we went for a hike to Kjenndalen and Kjenndalsbreen. Later the same evening, we let the dogs rest up in the cabin we rented, while we rode Loen Skylift and enjoyed a lovely meal with the worlds greatest view.
From Geiranger to Trolllstigen
From Loen we traveled to Geiranger and on the way there we (as many other people) found several viewpoints looking down to Geiranger fjord. After we visisted and passed Trollstigen, we spent the night at the foot of Trollveggen.
Musk at Dovre
Next stop was Dovre and a hike at Dovrefjell to hopefully see musk. Since these are wild animals that are quite shy, but can also be aggresive, we decided not to bring all the dogs, just Zen. Halfway on our hike we had not seen any musk yet, but a man we met told us to walk an hour further in towards the mountain and there they were! We kept our distance as you should, so not exactly any great pictures, but what an amazing experience!
Since the rest of our pack was left out of our "musk-hike", I went with them for a short hike to Viewpoint Snøhetta.
Gaustabanen, Gaustatoppen and Vemork
After Dovre, we drove south to visit Gaustatoppen and Gaustabanen. We knew by the weather we would not have any view at the top, but we were excited just to take Gaustabanen alone. A cabelway inside the mountain is quite special in it self.
Afterwards we drove to Rjukan and Vemork, and old powerplant where the famous operation Tungtvann happend. The last stop on our trip was at my fathers cabin in Sirdal, before arriving home safely after an amazing trip.
Tips and recommendations
If you are considering a vacation by car in Norway I would definetly recommend driving along the coast. Fjords, mountains and amazing views is everywhere on this route. I would also recommending selecting a few places you really want to see or visit, and do the rest by impulse when you feel like stopping.
My favorites on our trip was:
Bondhusvatnet
Stegatein viewpoint
Kingsroad
Loen, Kjenndal and Loen Skylift
Dovre
Gaustabanen (and Gaustatoppen without the fog)
In terms of bringing dogs on a vcation by car, you should always have enough time to stop for both short and longer breaks. On our trip we sometimes had planed hikes, as with Bondhusvatnet and at Dovre, while most of the time we found routes along the road or just walked offroad for a hike.
All of our dogs are rawfeed and some might consider it challenging when travelling but there are several options. We brought an electric cooler (connects to the car) with premade fresh rawfood as well as freeze-dried rawfood. If we had access to eletricity we used the cooler, and if not we used the freeze-dried. We always could find a petshop with VOM when we needed more.
I wish you a great trip!
Alle hundene våre blir råforet, så for denne turen hadde vi med oss frysetørket hundemat og VOM i kjøleboks. Man kan kjøpe kjølebokser som kobles til i bilen og hvis ikke er det mange forhandlere av VOM rundt omkring i Norge. Vi hadde aldri problemer med å finne en dyrebutikk som førte VOM. De nettene vi lå i telt uten strøm benyttet vi den
frysetørkede maten.
God tur!