Location: Vestvaagoya
Time: 1-1,5 hours
Distance: 2 km
Elevation: 400 meters

Mannen is one of the most famous (and most photographed) mountains in Lofoten and has an amazing view of Haukland beach and the surrounding mountains.
We parked near the beach (you are not required to pay for parking, but if you do the proceeds go to preserving the area) and walked across the road on the right side of the tunnel.
The hike is not marked, but you will see a clearly used trail the whole hike. After a short while it starts getting quite steep and when you are walking along the ridge of Mannen, it is straight down on your left hand side. Since I have a bit of fear of heighs, I stayed the the right side of the trail where you cannot see how steep it is on the other side. I can promise you, when you reach the topp and see the view, you will understand it is worth the hike and the potential fear of heights.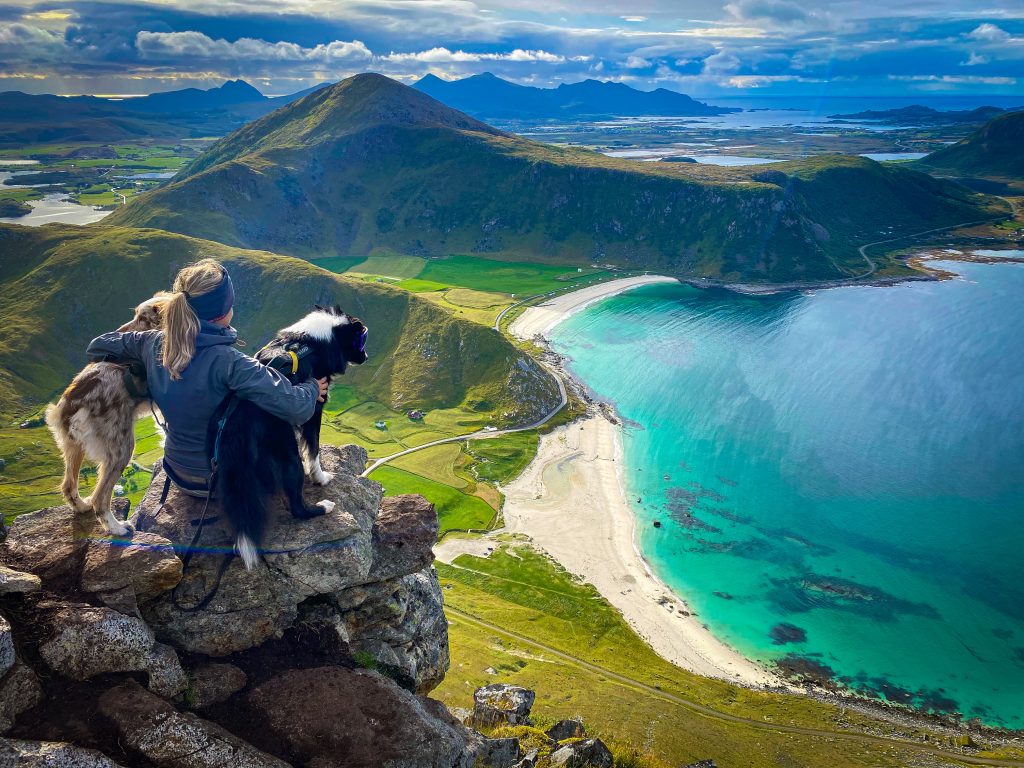 Tip!
If you are hiking to Mannen in the fall or during/after rain, you should know it becomes really muddy and slippery the last part of the hike and especially at the top.
Before or after the hike to Mannen, you should stop by Haukland beach, which is a lovely little hike also.
Because Mannen is one of the most popular hikes in Lofoten, it can be quite crowded, especially during the summer. Start your hike early in the morning or (as we did) hike during the fall, when most of the turist are gone.
During the hike, lift your gaze to the sky once in a while – we saw no less than three sea eagles during our hike.
If you are hiking with a dog, please be aware there are sheeps along most of the trail.